2017 Volvo V60 Walk Around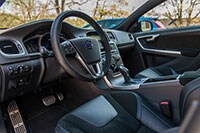 The Volvo V60 wagon's resemblance to the S60 sedan is evident at a glance, led by the steeply raked windshield. Similarity is no surprise, since the two body styles share much of their running gear.
No trace of old-wagon boxiness can be seen, as the V60 relies on swoopy, organic body lines from stem to stern, highlighting a basic wedge profile. Viewed from the side, a V60 may seem like an average wagon. Seen from any corner, front or rear, it conveys a distinctively modern ambiance.
Interior
Anyone familiar with Scandinavian simplicity should recognize its presence in the plain cabin of the V60. An excellent all-digital instrument display sits in the center of the dashboard. It can be customized to provide three distinct looks. One knob controls the 7.0-inch infotainment display, augmented by a nine-button control layout.
Black plastic surfaces abound, some of which have a textured, patterned finish. Soft-touch materials are among the firmest available. Compared to some rivals, such as Mercedes-Benz, the relatively spartan layout seems a bit behind the times.
Four adults can ride comfortably in a V60, with space for a fifth if necessary. Cargo volume is 30 cubic feet greater than the S60 sedan provides, with space for all the gear a family is likely to haul on a lengthy road adventure.
Carefully bolstered and blissfully comfortable, front seats are among the best to be found. After a time, passengers hardly notice their presence. Visibility from the driver's seat is quite good, which is fortunate since a rearview camera isn't standard.
Rear seats are acceptable for six-foot riders, even when sitting behind another tall occupant. Back seats aren't bolstered as adeptly as the fronts, but no one is likely to feel punished.