2017 Volvo V60 Driving Impressions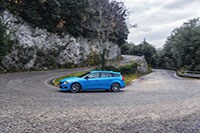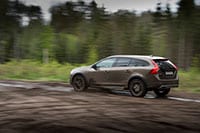 Predictability is typically a prominent virtue of wagons in general, and Volvo wagons in particular. A V60 wagon handles almost like a sports sedan, yielding a firm but smooth ride. Steering centering scores well, and the V60 provides a confident feel.
A T5 wagon won't leap ahead when the traffic light turns green, but it doesn't need to. The 240-horsepower engine propels this wagon to 60 mph in a respectable 6.6 seconds. Considering its hauling capabilities, that's plenty of performance.
Upshifts from the 8-speed automatic transmission are quick and assertive, while improving fuel-efficiency. On the down side, the direct-injected four-cylinder engine tends to sound coarse when running at low speeds.
The more powerful engine in the T6 R-Design is more satisfying when dashing along twisty two-lane pavement, but hardly essential for most drivers.
Polestar brings a lot more performance, but it's expensive.
Despite its additional ride height, the V60 Cross Country doesn't feel top-heavy when cornering. Steering is slower than in other models, but similarly predictable.
For fuel-efficiency, the front-drive T5 is the logical choice, EPA-rated at 25/36 mpg City/Highway, or 29 mpg Combined. All-wheel drive lowers that estimate to 23/31 mpg City/Highway, or 26 mpg Combined. The all-wheel-drive T6 is EPA-rated at 22/32 mpg City/Highway, or 26 mpg Combined. A V60 Cross Country manages 22/30 mpg City/Highway, or 25 mpg Combined.