2016 Volvo XC90 Driving Impressions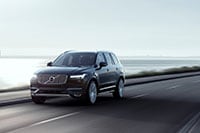 The 2016 Volvo XC90 is a roomy seven-passenger SUV, but it doesn't drive like a big vehicle.
The XC90 T6 comes with a 2.0-liter four-cylinder engine, which sounds small for a big SUV, except this one is both turbocharged and supercharged to deliver the kind of smoothness and performance of a V6. The resulting 316 horsepower whisks the XC90 along in whisper-quiet confidence around town and on the highway. Throttle response is crisp and linear; there are no flat spots, surges or hesitations at any engine speed and tractability around town is excellent.
The T8 plug-in hybrid version of the XC90 offers even higher levels of performance than the gas-only T6 version, blending the power of the same 316-hp 2.0-liter gas-powered four-cylinder with that of two electric motors: a 46-hp electric motor that boosts the gas-engine's power sent to the front wheels and an 80-hp motor that powers the rears. Under light acceleration, the car starts out under electric power, then fairly seamlessly blends in the power of the gas engine as acceleration continues. T8 can operate up to 24 miles solely on electric power, an important factor as some municipalities look to ban the operation of internal-combustion powered autos under some circumstances. As with the gas-engine T6 version, the XC90 T8 is very quiet in operation. Passing power is ample.
Both the T6 and T8 use the same 8-speed automatic transmission which shifts quickly and seamlessly with authority. All-wheel drive is standard.
We wouldn't characterize the XC90's handling as sporty compared to that of a BMW X5 or Audi Q7, but its blend of quiet confidence and control feels appropriate. Body roll (lean) around bends is well controlled and the electrically boosted steering is naturally weighted and precise. Big brakes get the job done without drama, though the T8 plug-in hybrid's brake pedal sometimes has a two-step feel as the system works to blend the hydraulic portion of the brakes with that of the regenerative system for the battery.