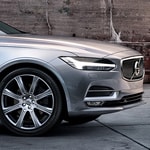 Volvo has always been a vehicle manufacturer that is known for both quality and safety. The Volvo V90 luxury wagon is one of the most popular choices for families in our inventory at LaFontaine Volvo Cars of Farmington Hills. We think you will be impressed with the safety features of this luxury vehicle.
This is one of the few vehicles available today to offer City Safety Collision Avoidance technology. The Volvo V90 was designed to improve and assist driver awareness. Volvo knows that drivers are subjected to many distractions today. The V90 also has Driver Alert Control, a system that can actually detect things like drifting or delayed braking. Isn't the safety of your family worth the advanced automotive safety technology in this vehicle? We think so.
Here in Farmington Hills, MI we have a knowledgeable and friendly staff that can help you schedule a test drive. The best way to get a feel for the safety features in the Volvo V90 is to get behind the wheel.