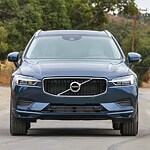 The performance of the Volvo XC60 R-Design is often what excites drivers. It also has a luxurious interior that cultivates joy. In fact, there are a comprehensive list of features, which is an added bonus.
Sensus Touchscreen The Volvo XC60 R-Design trim has a 9-inch Sensus touchscreen with a wide variety of functions. The large size and simplicity in which it can be controlled are ideal for drivers. This touchscreen is distinctive, yet user-friendly.
Advanced Sport Chassis The Volvo XC60 R-Design trim has a level of responsiveness that makes drivers feel a greater sense of control. This is in part because of its advanced sport chassis, which is a feature that results in a limited amount of roll when taking on corners.